We all know what it's like to work with someone who interviewed really well and had all the required skills and qualifications to do the work, but somehow when in the job, didn't perform or cooperate to help the team move forward. That is a widespread complaint today when considering a bad hire, but it's not a new problem. It's always been hard to identify if candidates really are the right fit early on, and too late when you find out months later.
An estimated 46% of hires fail within 18 months. Each one will cost you significantly, at an average of $32,000 per leaver – but it's an avoidable cost.
We ask for someone with a positive attitude, who listens more to customers and talks less over the top of them. We ask for someone who is driven to go the extra mile to get something done, and be open to learn how to when they don't know how. We try to hire for integrity, cooperation, patience and diligence – understandably – as these are attributes have been shown critical for success in many settings.
We're wising up now to "Hire for attitude, train for skills". But… how?

Managers rely on resumes, qualifications, work experiences, and interviews to gain insight about candidates. Yet, 70% of what we are looking for are not reflected on a resume, often challenging to impart through training, and easy to miss during interviews for those who are practiced at presenting well. These traditional methods are shown to be limited in the ability to shed light on all the intangible areas, offering a very superficial or "impression managed" view – the tip of the iceberg.
Regardless of how great your hiring process is, managers will still be flipping a coin on performance, without early, objective insights on these four things that should never be missed before selecting and hiring anyone: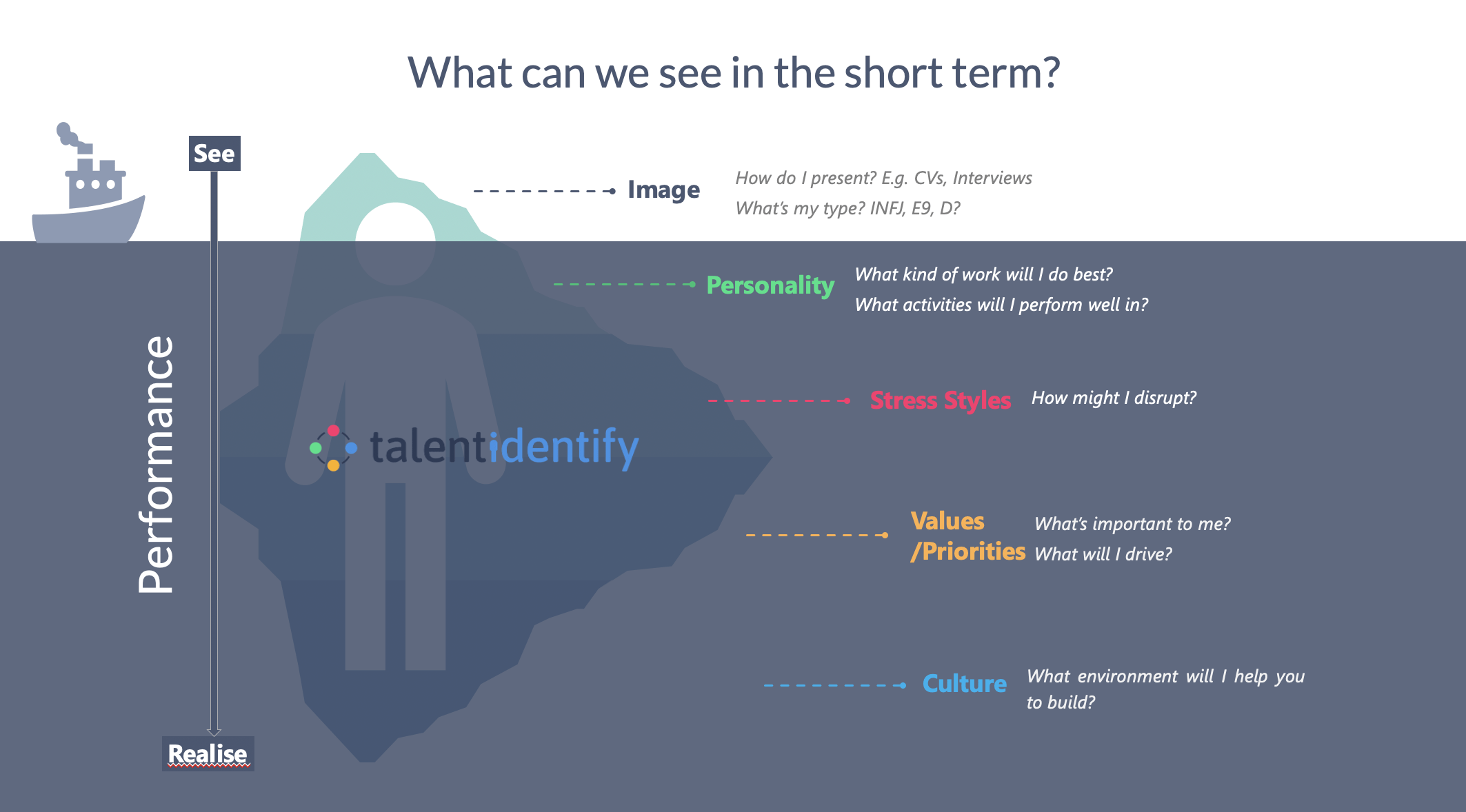 Behavioural traits – how will the candidate act and perform on the job?
Priorities (Values) – what will the candidate prioritise in the role?
Stress styles – how might the candidate disrupt? is that ok?
Culture style – what kind of environment is the candidate going to help build?
What we are looking to do is quickly assess those things that impact on on-the-job performance, but can't typically be identified early on, e.g. underlying performance attributes and values.
That's why managers love that TalentIdentify cuts through the noise and answers all these questions quickly for them at the outset – with a tool that helps them more quickly, objectively, and fairly assess candidates on all four key performance areas in just 15 minutes. Leveraging modern behavioural science and technology means that the intangible can indeed become visible, providing much needed and timely insights that identify how someone would perform in a role before hiring them.
Even if you don't currently have any tools to help you gain insight into these areas, at least keep it in mind these 4 things the next time you're looking for the right hire – they'll save you and your new hire a lot of pain later down the road.